When Road Hazards Become Road Closures

Flooding along Hwy 1 in Sonoma near Valley Ford Jan. 16, 2016. (Photo by Bay City News, ABC)
As winter fast approaches, hopefully so will the needed rain that will green our hills, replenish our aquifers and slow any further fire hazards. Unfortunately, with the rain so too comes the potential for flooding and mudslides especially in areas affected by recent wildfire.
Travel Insurance
These road hazards can become road closures making it a great challenge for travelers to Sea Ranch. When that happens it can be sad and disappointing news for you and your guests traveling the coastal road to Sea Ranch. For that reason, before you leave for your trip, we strongly advise and recommend you purchase travel insurance to protect your vacation investment when booking Abalone Bay, or any other lodging for that matter.
Travel insurance covers the unexpected things that can occur on your trip. Therefore, it's the ideal way to protect yourself and your pre-paid trip expenses in situations where bad weather causes you to:
Cancel your trip because the roads are washed out or your resort is destroyed
Interrupt (abandon) your trip due to mandatory evacuations or your primary residence has been damaged
Seek medical treatment for an injury that resulted from severe weather
Request an emergency security evacuation to get to safer ground
Miss an important travel connection and have to catch up to your cruise or tour
Wait out the weather in a hotel until the airlines can reschedule flights
Road Closures
Rain: A Blessing and a Curse
While we celebrate the rains quenching our parched earth, those rains can also become a nuisance for you. This is especially true when you are trying to make your way to or from Sea Ranch Abalone Bay. Road closures and debris on the roads (rocks, mudslides, tree branches) can make your drive along the roads an even greater challenge.
Our website offers general directions on how to get to Sea Ranch. But for times like these, you may need more resources in case your trip is fraught with road closures or flooding.
Falling Rocks, Mudslides,
During the winter storm season, when rains are hard and persistent, you need to be aware of possible road closures in low lying areas. This is especially true near the many river banks that line county roads. You also need to be on the lookout for rocks in the road that have crumbled off the mountainside along Highway 1. Large slides like the one pictured above can happen. But more often it is the overlooked random fallen rock or two that have crumbled into the roads that cause the greater problem.
…And Fallen Trees
Heavy winds and oversaturated earth can also cause problems. As stormy winds whip up off the coast loose branches from the eucalyptus, cypress, and redwood trees lining the roads can fly onto the roads. Should the rains last for a prolonged period or are heavy some trees may topple, especially if the winds are whipped up. Be especially aware of this when traveling along the River Road/Highway 116 routes that follow the Russian River, and Highway 1 above Fort Ross area through Salt Point.
Avoid Valley Ford When It Rains- Use River Road
The Valley Ford area is a frequent means to get to Sea Ranch for those of you south of Sea Ranch. Unfortunately, you can expect to see flooding and road closures on Highway 1 (Petaluma/Valley Ford/Bodega Highway) just east of Valley Ford, typically in two locations. For that reason, we much prefer using the River Road/Highway 116 to Guerneville and on to Santa Rosa/Highway 101.
Below is a map that shows the area of potential flood risk and potential road closures in the Valley Ford Quadrangle.
California Flood Risk: Sea Level Rise
How to Bypass Road Closures in Valley Ford
If you must use travel the Valley Ford route we have instructions for bypassing possible flooded areas.
Southbound:
At DiNucci's Italian Restaurant at the west end of Valley Ford, turn right onto Estero Road. In about one mile, you will cross a creek and very shortly thereafter Marsh Road. Continue on Estero Road for another mile until Estero Road branches off to the right. Leave Estero Road and stay on the main Valley Ford/Franklin School Road for another 1 1/2 miles.
Whitaker Bluff Road
Turn eastbound on Whitaker Bluff Road. (If you cross a bridge, you have missed the Whitaker Bluff Road turn by going about 1/4 mile too far.) In a little less than a mile down Whitaker Bluff Road, you will intersect Middle Road. Do not turn left (north) onto Middle Road. In about 0.1 mile, you will find another intersection with a right turn to Middle Road. Do not take that turn either, but turn left to stay on Whitaker Bluff Road (a.k.a. Fallon/Two Rock Road). Continue for another 1 1/4 miles, at which time you will intersect and cross Highway 1 (Shoreline Highway) which also goes to the Valley Ford Road, but it is a low route and is quick to flood.
Gericke Road
In less than 1/2 mile, turn left (north) on Gericke Road (a.k.a. Jones road). Continue on Gericke Road for about 2.8 miles to intersect Valley Ford Road. Turn right to resume the trip to Petaluma via Valley Ford Road.
That should have gotten you around the worst of it. Both Shoreline Highway and Middle Road have low spots and are often flooded. Resist the temptation to take them.
Northbound:
Usually, any serious flooding on Valley Ford Road occurs in several low spots between Carmody Road and Valley Ford. These instructions bypass those flooded areas.
Carmody Road
Turn left (south) at Carmody Road for almost three miles to the dead-end intersection of Fallon/Two Rock Road (left turn) and Whitaker Bluff Road (right turn). Turn right on Whitaker Bluff Road. In less than one mile, you will cross Highway 1 (Shoreline Highway). Continue on Whitaker Bluff Road for another 1 1/4 miles until you reach Middle Road.
Before proceeding, stop and read this paragraph carefully. For about 0.1 mile, Whitaker Bluff Road becomes Middle Road and then it resumes as Whitaker Bluff Road. You are to continue on Whitaker Bluff Road as directed in the next paragraph.
Middle Road
Turn right (north) on Middle Road (you will also be on Whitaker Bluff Road). Proceed about 0.1 mile while the road turns left and until Middle Road turns off to the right (north) and Whitaker Bluff Road continues westbound. Do not follow Middle Road, but continue westbound for one mile on Whitaker Bluff Road until it intersects and becomes Franklin School Road. Continue on Franklin School Road as it winds around and merges with Estero Road. Do not turn west (left) on Estero Road, but continue northeast on Estero Road/ Franklin School Road for 1 1/2 miles as it passes the Marsh Road intersection and crosses a bridge to join Highway 1 just west of DiNucci's Italian Restaurant located at Valley Ford's west end.
Valley Ford's West End
That should have gotten you around the worst of it. Both Shoreline Highway and Middle Road have low spots and are often flooded. Resist the temptation to take them.
(The yellow route on the following map shows the use of Gericke Road rather than Carmody. Sometimes there is flooding between Carmody and Gericke, so these directions suggest Carmody.)
Garcia River Flooding Highway 1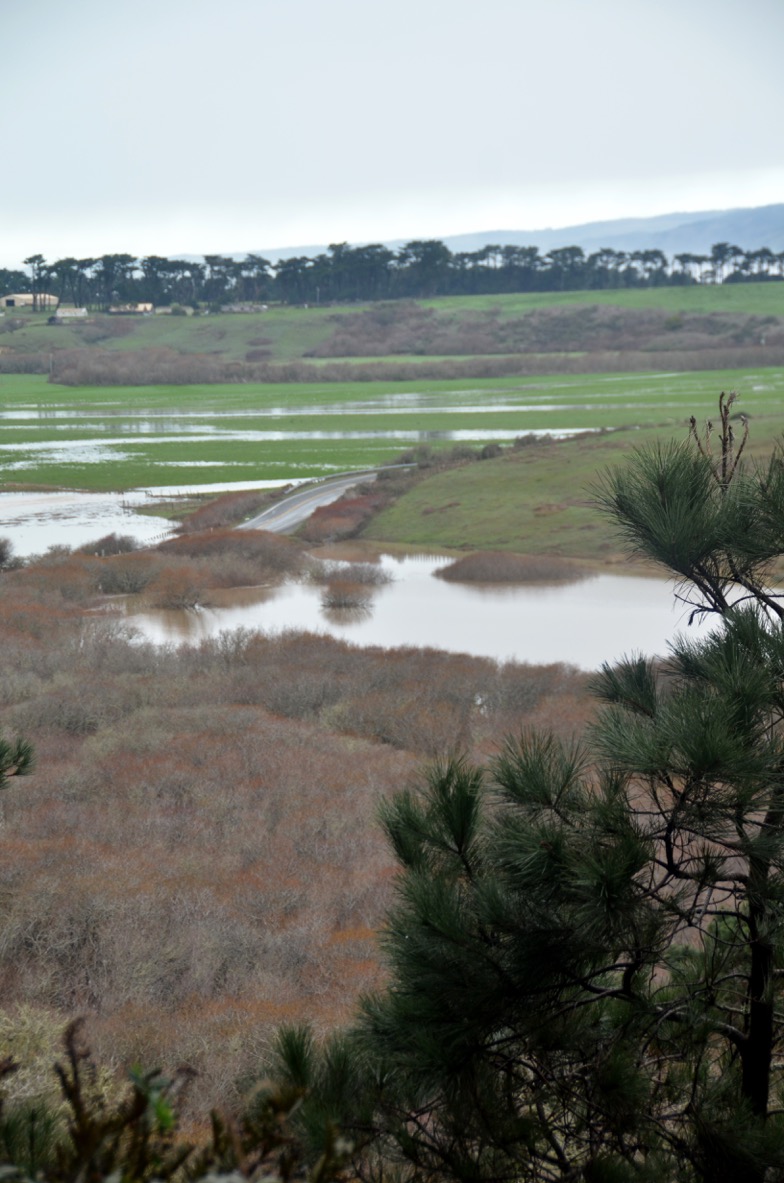 You also need to be aware of possible flooding and road closures when you travel north of Sea Ranch. Flooding frequently occurs in the Garcia River basin at Point Arena. If you plan to visit the Stornetta Public Lands or travel north to Mendocino and Fort Bragg visit these be sure to check current road and weather conditions:
Other Road Conditions and Information for Road Closures
Weather Conditions and Flood Forecast Resources
Before you leave check these sites for current weather conditions that could cause road closures.
For current California river conditions check http://cdec.water.ca.gov/river/rivcond.html for updates of river forecasts
NORTH COAST REGION
SAN FRANCISCO BAY REGION
Valley Ford Flood Forecast and Weather Conditions
Russian River Flood Forecast and Weather Information
Flood Watches/Warnings
Weather Information
Emergency Phone Hotlines
Water Agency Flood Forecast Hotline: (707) 526-4768 – The Water Agency updates the Flood Forecast Hotline, (707) 526-4768 when the Hacienda Bridge water level is over 20 feet.
2-1-1 Sonoma – 2-1-1 Sonoma is an information and referral call center that connects Sonoma County residents with non-emergency health, human, and disaster resources. Available by phone by calling 2-1-1 and searchable online 24 hours a day and 7 days a week, their comprehensive database connects residents to accurate and up-to-date information and services. www.211sonoma.org/
Sonoma County Department of Emergency Services Hotline: (707) 565-3856 – During periods of potential emergency (i.e. winter storms), information regarding current conditions may be available to the general public, media, and local agencies by dialing the Emergency Services Hotline.
Stay safe out there!
Visit other tips found in our blog for road trip ideas and safety