Your Guide to Sea Ranch Harbor Seals
Tide Pool Rookery
Have you discovered the colony of Sea Ranch harbor seals (Phoca vitulina richardsi) that make their homes on Tide Pool Beach?
Beginning in March, pregnant, adult, female harbor seals haul out on Tide Pool Beach, forming what's called a "rookery," and waiting for the right moment to give birth. They will be joined by adult male seals, who will gather on the periphery of the rookery to compete for opportunities to mate with the females once they've weaned their pups. Immature seals, some who were born last year in this rookery, will also show up, their instincts having brought them here to rehearse for the future when they become breeding age. In years past, the population of the Tide Pool Beach rookery has ranged from 74 to 150 adults and 51 to 75 pups.
Green Cove Rookery
Green Cove, just steps from of Abalone Bay Vacation Home, is another rookery location. However, more pups are born at the Tide Pool location, while the Green Cove location is more like the playground and schooling area.
Why Is Tide Pool the Preferred Birth Center?
Harbor seals are "philopatric," meaning they return to the same beach year after year to breed. If they are repeatedly disturbed by either terrestrial predators or humans, they will abandon their birthing place and seek another. For this reason, beginning in 1996, The Sea Ranch closed off access to Tide Pool Rookery in the spring of each year to protect the seals and the newborn pups. This provided Sea Ranchers and visitors with a rare opportunity to see harbor seals up close, and perhaps even witness a birth.
Harbor Seal Docents
For the last 25 years, Harbor Seal Docents have been out at the observation area above the rookery providing visitors with information about the natural history of this charismatic species. One of the most frequently asked questions the docents hear is, "Why do the seals give birth here?" Tide Pool Beach is made up of two small, pocket beaches that are protected from strong wave action by offshore rocky reefs and a tableland that juts out into the ocean. The sandy beaches and calm waters are ideal for giving birth and raising young pups. And the nearby kelp forests provide plenty of food.
The Life of a Harbor Seals in Sea Ranch
When you walk along the oceanfront trails you are sure to see our neighbors, the shy Sea Ranch harbor seals, sunbathing on the rocky shelves below.
When not lounging as though on holiday, these curious creatures can be seen swimming around seeking food or simply frolicking about the coves.
These residents of Sea Ranch may be sighted year-round both on land and in the nearshore waters.
You may even find this inquisitive creature floating vertically, or "bottling,", in the water to check you out as much as you are observing him.
Sea Ranch Harbor Seal Docent Spills the Beans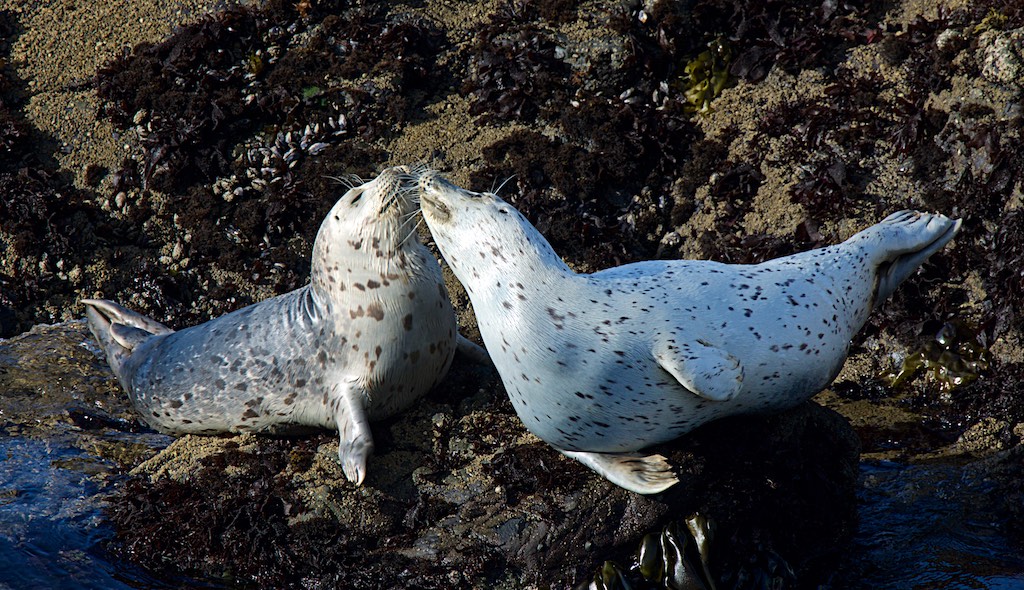 While watching is a great activity ~ Learning about Sea Ranch harbor seals is even better!
There is so much more to these marvelous creatures to know and enjoy. Once you know more about these sweet marine mammals you'll gain such a greater appreciation of their presence here.
I know because I've just become a newly minted Sea Ranch Harbor Seal Docent! And I just can't wait to spill the beans on these endearing creatures.
So here are ten secrets about Sea Ranch harbor seals revealed just for you and your friends.
Enjoy~
Secret #1. Harbor Seals Have Many Names
As a member of the special group of vertebrates known as marine mammals, harbor seals are the smallest of California pinnipeds, or fin-footed marine mammal. They are also known as Pacific harbor seals
Like all other mammals they share the same characteristics:
Breathe air through lungs
Produce live young
Rear live young
Produce milk for their young
Are warm-blooded
Have hair or fur
Distinguished for their relatively large brans
Have a variety of tooth sizes and shapes
Their scientific name is Phoca vitulina. The California population of subspecies is richardsi. Their scientific name loosely means "sea calf" or "sea dog."
Harbor seals are considered true seals (phocids).
Characteristics of True Seals Include:
Average adult weighs 150 to 375 pounds (68kg-170 kg) and is 4 to 6 feet(1-2 m) in length. Males are larger than females
Newborn harbor seal pups weigh from 8-12 kg (8-26 lbs.)
Mating occurs underwater.
Lack of external ears
White whiskers
Shorter, relatively inflexible necks
Undeveloped forelimbs with hairy bear claws used for crawling up rocks and ice floes
Hind flippers that

do not flex forward- they are always behind the body
move back and forth vertically in swimming like the tail of a dolphin
have hair

Small flippers make it awkward to move on land. They must wriggle, hunch, and flop along on their bellies.
Harbor seals are much better made for swimming in water than crawling up on the beach. Their rear fin-feet allows them to swim at great speed to catch prey ad avoid predators, such as sharks and orcas.
They can dive down to depths of 1,500 feet and are capable of staying underwater for up to 40 minutes. However, a typical seal dive is shallow, only lasting three to seven minutes.
Like other pinnipeds, harbor seals' bodies' thick layer of blubber keeps them warm in the cold Pacific waters and a hydrodynamic shape similar to a torpedo.
Secret #2. San Francisco Seals are Redheads
Spotted fur is the hallmark of harbor seals. Harbor seals range in color from light gray to silver with dark spots. Some are black or dark gray to brown with white rings. Spots or rings are numerous on the dorsal (back) surface and more sparse on the ventral(underside) surface.
On occasion, visitors may discover Sea Ranch harbor seals with a red or rust tinge to their fur. Those are seals visiting us from San Francisco Bay where the iron oxide deposits on their fur and dyes it red.
Ongoing studies are currently investigating just how this happens.
Secret #3. Habitat of Harbor Seals Includes Sea Ranch
Pacific harbor seals (P. vitulina richardii), consist of an estimated 285,000 seals, distributed from the Pribilof and Aleutian Islands in Alaska as far south as Baja California.
Harbor seals prefer to frequent familiar resting sites. Pacific harbor seals do not migrate. However, local movements are associated with feeding and breeding.
Colonies of California's harbor seals are found all along the California coastline. The population of harbor seals have increased as a benefit of the Marine Mammal Protection Act of 1972
Usually, they are found in small groups but may congregate in groups of up to 100 individuals. It has been thought that pups (baby seals) are born in the same location as their forebearers and remain there after weaning. While they do not establish obvious social hierarchies during breeding seasons, there does appear to be competition between males.
Harbor seals tend to stay near the shore, in subtidal and intertidal zones, and can often be seen on floating docks or sheltered beaches. Their range within California extends along the entire coast of the state.
Harbor seals require an open ocean to feed. In order to sleep, rest, mate, and nourish their young. To give birth they need undisturbed beaches, spits, sandbars, lagoons, bays, and rocky headlands.
Secret # 4. Sea Ranch Harbor Seals Warm Up by Hauling Out
When harbor seals (and sea lions) come out of the water it is called "haul out."
They haul out almost daily to rest and to warm up. They cannot maintain their body temperature if they stay in cold water all the time because of their smaller size and thinner blubber layer. In comparison, northern elephant seals lose less heat than harbor seals because are much larger and have a thicker blubber layer that allows them to stay at sea for months at a time before coming onshore to rest and give birth.
Although they haul out in (sometimes quite large) groups, harbor seals do not like to touch each other. This is in direct contrast to sea lions, who are commonly seen piled on top of each other on the off-shore rocks.
If you watch the Sea Ranch harbor seals closely, it is interesting to observe the great lengths they'll take to avoid touching each other. The exception to this rule is the bonding between a mother and her newborn pup when they "nose" each other frequently.
Once on land, harbor seals lie in a banana-like position with their head and tail raised off the ground.
Secret #5. Harbor Seals Need Our Protection
This secret is one of the most important secrets in need of revelation. When seals and other pinnipeds haul out, they are extremely vulnerable to human disturbance.
Our marine mammals need our protection.
Both federal law and local designation of marine reserves serve to protect marine mammals.
Sea Ranch Marine Reserves
Because Sea Ranch harbor seals enjoy hauling out in our protected coves, many are designated as Marine Reserves. This prohibits the taking of fish or disruption of marine life in these areas, including the Sea Ranch harbor seals.
Sea Ranch Del Mar Landing State Marine Reserve
The Del Mar Landing State Marine Reserve is located between the Fish Rock and Solstice Hedgerows. Del Mar Landing State Marine Reserve (SMR) is a marine protected area, or underwater park, that covers 0.22 square miles of Sonoma's coastal waters. It lies within the community of The Sea Ranch located about 2 miles south of the town of Gualala. This stretch of coast is characterized by tall bluffs, rocky shores, and sandy coves.
Tide pools and beaches in the area are rich in marine life, and the coastal cliffs provide an excellent vantage point for spotting harbor seals and migrating whales. Del Mar Landing SMR, established in May 2010, modifies the pre-existing Del Mar Ecological Reserve to better protect nearshore finfish, abalone, and their habitat.
No marine life of any kind may be taken with the bounds of this reserve. The taking of all species is prohibited, including finfish.
For more in-depth rules and regulations please visit: http://www.californiampas.org/pages/regions/northcentralcoast/delmarlandingsmr.html
The Sea Ranch Association Marine Preserves
The Sea Ranch Association Marine Preserves are located at Unit 28 at the south end of Walk-On Beach. A harbor seal observation point is located at Tidepool Beach near Walk-on-Beach.
Unit 18 at the north end of Green Cove Drive, near the location of Abalone Bay Vacation Home is another harbor seal observation point.
These are educational preserves. Their use is in accord with the Department of Fish and Game regulations. Please avoid disturbing or taking of marine life in these preserves.
It is very rare for harbor seals to choose a haul out so close to humans, making the rookeries at Sea Ranch a rare natural treasure, indeed.
Marine Mammal Protection Act
More importantly, is the fact harbor seals are federally protected under The Marine Mammal Protection Act of 1972.
The Act protects not only the harbor seals but also northern elephant seals, California and Steller sea lions, whales, porpoises, sea otters, and other marine mammals.
This law prohibits killing or harassing these shy creatures in any manner. Penalties may include up to $100,000 in fines, as well as up to one year in jail. Any human activity that causes a change in the behavior of a marine mammal is considered harassment.
Critical for Seals' Protection
The Marine Mammal Protection Act is especially critical for the protection of the harbor seals. Because seals are very shy and afraid of humans, they quickly swim into the ocean, leaving their pups to fend for themselves.
Often harbor seals will react when humans come within 90 m (300 ft). Their reactions can be anything from a head alert—lifting their head—to flushing—retreating into the water. Harbor seals leave their haul-out sites when harassed by people, dogs, boats, aircraft or other human actions.
Even a temporary disruption stresses the animal by cutting into its time to warm up, rest, and nurture young. If harassing activity continues near the pup, the female may eventually give up trying to reunite with it and the pup will be abandoned. Stranded nursing pups separated from its mother are too young and inexperienced to make it on their own. They often end up injured or die. Harbor seals may also abandon a haul-out site permanently, as they did at historic sites in San Francisco Bay, due to high and chronic incidences of human disturbance.
Secret #6. March Begins the Birthing of Sea Ranch Harbor Seals
All pinnipeds give birth on land, and that is one fact that distinguishes them from cetaceans, another group of marine mammals. Harbor seals will haul out to the shore in order to give birth. The pregnant seals will rest on tidal sandbars, rocky reefs and pocket beaches then stay close to their pups until they are ready to go out on their own.
March through July, the pupping and molting seasons, is an especially vulnerable time for harbor seals.
Pregnant seals birth only one pup at a time. There are no multiple births.
Pups weigh about 20 to 24 pounds at birth. If born prematurely, harbor seals retain a whitish lanugo coat (which is usually lost before birth).
A pup can swim at birth and will sometimes ride on its mother's back when tired. Pups make a bleating noise that sounds like "maaaa." After about four weeks, the pups are weaned.
Adult females usually mate and give birth every year.
They may live for 25 to 30 years.
Sea Ranch Rookeries
Sea Ranch's two protected seal observation areas are also designated as rookeries for our Sea Ranch harbor seals.
The Tide Pool Beach location is the location where the majority of pups will be born.
The Green Cove (near Abalone Bay Vacation Home), may have pups born there as well but is more a nursery and playground area for the pups and their watchful mothers.
General Public Viewing of Harbor Seals
It is important to remember that The Sea Ranch is a private community. Remember, access to the trails, ocean bluffs, and beaches are limited to only the following six public trails:
For general public viewing of the Harbor Seals, your best option would be at Shell Beach which is south of Tidepool Beach. See directions on Google Maps to Shell Beach below. The trail to Shell Beach is 0.65 miles one way. Runs through pines and meadow to a wide, sandy beach with sea rocks and tide pools. Small boats can be carried to the ocean via a beach ramp.
It is important to note that you may not travel beyond the public access areas without a guest pass. Dogs are permitted on leash. However, bikes are not allowed on the Bluff Top Trail.
Click here to view or download a map to all the Public Access Trails
Abandoned Pups
During the birthing months, you may come across a seal pup alone on the beach. It is most likely not abandoned. Although the percentage of successful female/pup reunions has not been documented, anecdotal reports indicate that pups have successfully reunited up to 48 hours after separation. The mother is probably in the water nearby feeding. A female seal is more likely to return to reclaim her pup once the disturbance near the pup goes away.
However, if a mother is repeatedly disturbed – harassed – on a site with her pup, she may decide to abandon her pup for the safety of the water.
Secret #7. Sea Ranch Harbor Seal Docents Are Available to Help
During the months of March to June local volunteers are located at the two Sea Ranch rookeries during the day. The docents observe the Sea Ranch harbor seals, recording the number harbor seal pups born that day.
Sea Ranch Docents also observe for any seals, especially pups, that may be injured or stranded.
The Sea Ranch Harbor Seals Rookery Project provides extra eyes and ears on the bluff. The Project was started because of increasing reports of harassment to the colony during the time when seal mothers and pups are present at these locations.
The Sea Ranch Harbor Seals Rockery Project goals include:
Provide information, references, and resources for people interested in our Sea Ranch Harbor Seals
Provide knowledgeable volunteers on the bluff to answer questions and generally monitor the population of Sea Ranch harbor seals during the pupping season (March-June) at Tidepool Beach area.
Educate our members, their guests, and visitors about the rookery and monitor proximity of people to avoid harassment of the colony.
Docents' Duties
The docents' vigilance help keep the number of human and dog interactions with these stranded animals to a minimum. The docents observe to make sure the pups are reunited with their mothers and to kindly advise you to be sure to stay well away from any seals you see.
Should a harbor seal require attention, they call in support from The Marine Mammal Center.
The docents are also available to answer questions folks visiting the observation points may have about the seals or other Sea Ranch marine mammals.
Sea Ranch will close off direct access to the rookeries during the birthing months. Docents will offer suggestions of other beaches that you may enjoy and not cause a disturbance to these seals.
Visitors to the rookeries with dogs will be asked to keep their pets far away from the bluff. There are tie-off locations for your pet. Docents will direct you to where you may safely keep your dog.
A Rewarding Experience
Sometimes volunteers are rewarded with the birth of a pup on their watch. This is the case of Jeannie Claypoole who was observing Tidepool Rookery on The Sea Ranch. According to the Menodonoma Sightings accounting, "she saw a Harbor Seal that seemed very antsy. Sure enough, she was about to give birth."
Photos by Jeannie Claypoole: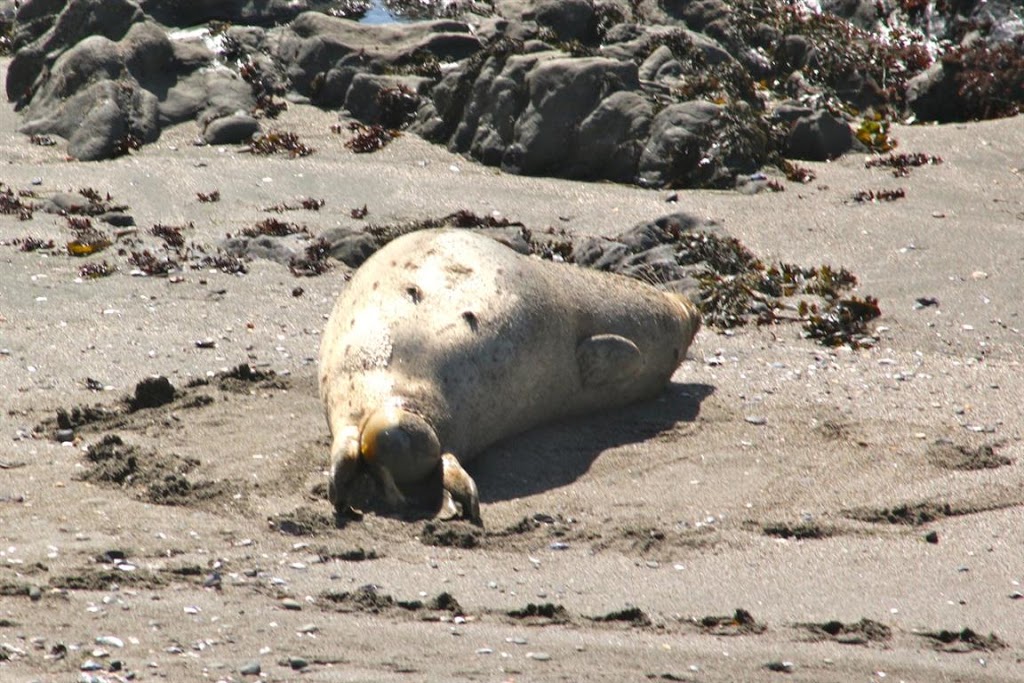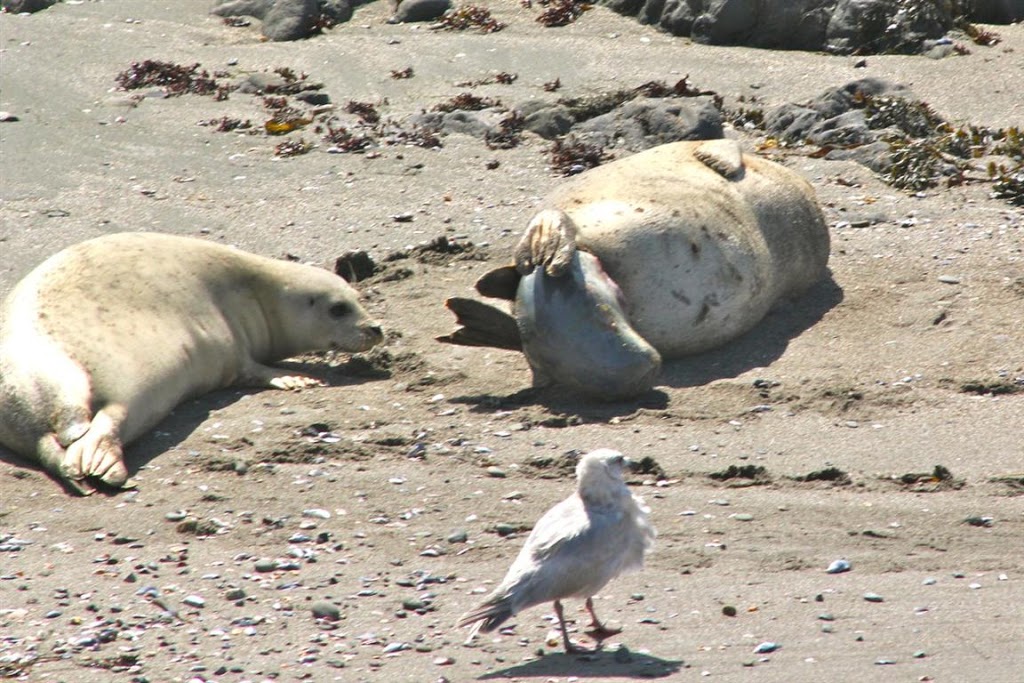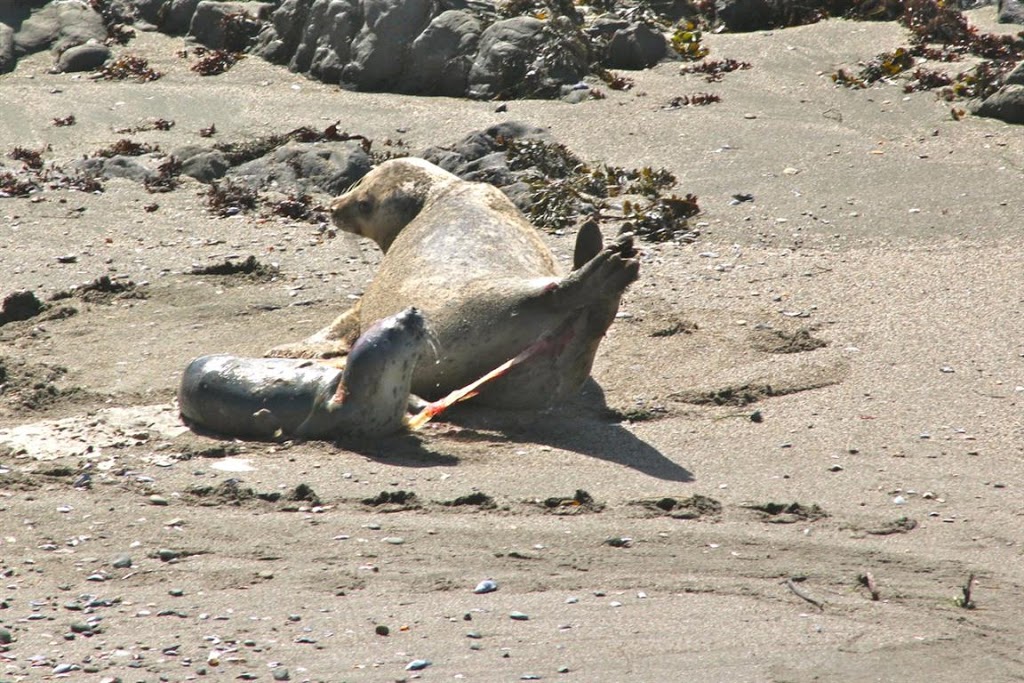 Water Babies
Harbor seals can give birth on areas that are inundated at high tide because harbor seal pups, unlike most pinniped species, can swim at birth. During the pupping season, mother seals will spend more time onshore nursing pups and resting, for an average of around 10–12 hours per day. The mother harbor seal stays with the pup almost continuously and rarely leaves the pup alone onshore. Mothers can take their pups with them when they go swimming and feeding because pups are adept swimmers.
A Mother's Love, A Father's Territory
Pups, when born, are covered with fur. Premature pups are called lanugo, and will have very light to white fur. A mother caresses and nuzzles its baby pup constantly, and for four to six weeks nurses it with her rich milk. The 48% fat content of milk makes the pup gain weight rapidly, and by around 30 days they are weaned. Pups weigh around 11 kg (25 lbs) at birth but when they are weaned they may weigh as much as 22 kg (50 lbs).
During the breeding season, male seals hold territories in the waters adjacent to where females haul out onto shore, called maritory. Females are receptive to mating around when the pups are weaned and mating occurs in the water. Male seals will protect their maritory from other males and engage in stylized fighting during the breeding season.
Shortly after the pups are weaned, the seals begin the annual molt of their sea-worn fur. The fur sheds much like a dog and the seals turn a luminous color with new fur. The molting period begins around mid-June and extends through July. During this time, seals will spend more time resting onshore because it is energetically taxing. Also, studies have shown that hair follicles grow faster in onshore than in the water. Seals can stay onshore resting for an average of 12 hours per day during the molt compared to around 7 hours per day during fall-winter months.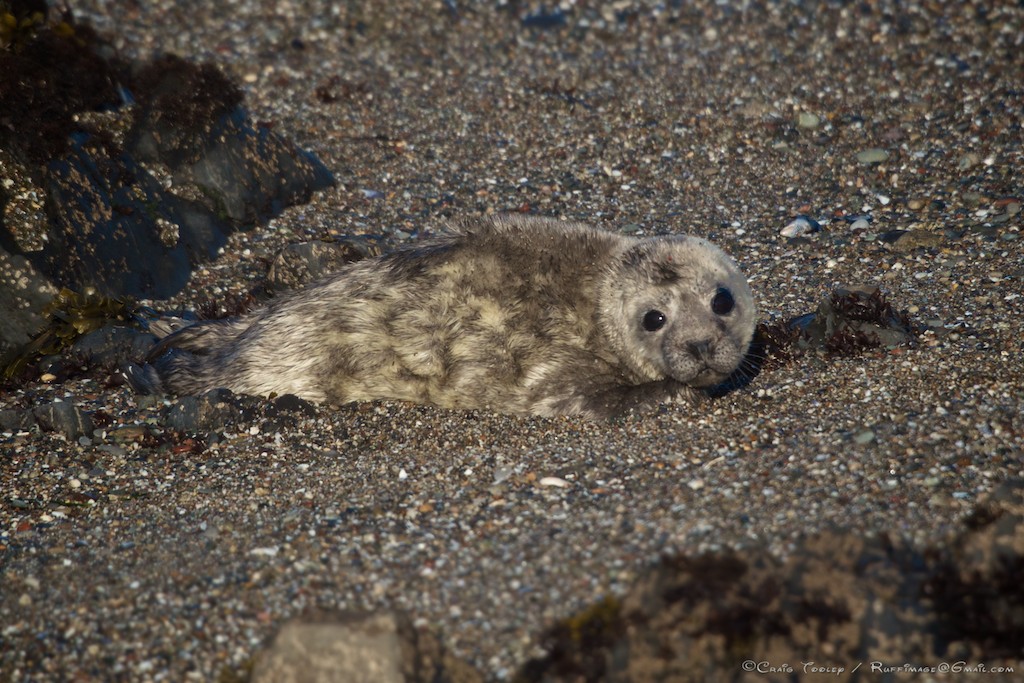 Secret #8. Harbor Seals Rank High on the Food Chain.
The harbor seal is considered an "apex predator" because it feeds towards the top of the food chain. Apex predators are often used as an indication of the condition of their ecosystem because they can't do well unless all of the organisms within their habitat are doing well. Adult harbor seals eat a variety of nearshore fish; including, anchovies, rockfish, sardines, herring, flounder, salmon, hake, and sculpin. Their diet varies based on the season, region, and availability of its prey. They also eat invertebrates such as octopus and squid and even crabs.
Because they eat fish meat they are members of the Order Carnivora.
Harbor seals are not the most cultured of diners. They don't chew their food. Instead, they'll swallow their food whole or tear it into chunks. With their back molars, they crush shells and crustaceans.
Point Reyes National Seashore Park, located about 57 miles sought of Sea Ranch, has been using the harbor seal as one of the indicators of the condition of the area's marine systems. The population has grown and stabilized over the past decade and females give birth to pups around every year. During El Nino years, though, female seals often skip giving birth and the population counts onshore are lower, likely because seals are spending more time in the water looking for food.
Secret #9. Predators of Sea Ranch Harbor Seals
White sharks are the primary marine predator of harbor seals. They are seen farther offshore. Besides white sharks that may eat Sea Ranch harbor seals, others include blue sharks, white-tip sharks salmon sharks. Orcas or killer whales also eat them.
Terrestrial predators such as coyotes and bobcats can also occasionally prey on harbor seals resting onshore, particularly pups that are very young.
Rarely, male elephant seals have been documented killing harbor seals in California at harbor seal colonies such as Jenner, located south of Sea Ranch. This elephant seal behavior is very unusual, and the male seals do not appear to interact or haul out with other elephant seals. Instead, they haul out at harbor seal colonies.
Secret #10. YOU Can Become Involved Too!
Sea Ranch and the Marine Mammal Center work very closely in the protection and health of the Sea Ranch harbor seals. In fact, many docents also volunteer with the Marine Mammal Center. Volunteers help rescue and rehabilitate sick and injured marine mammals, educate the public about the conservation of marine mammals and their ocean environment and so much more.
And so can you!
The Marine Mammal Center is a nonprofit veterinary research hospital and educational center dedicated to the rescue and rehabilitation of ill and injured marine mammals – primarily elephant seals, harbor seals, and California sea lions. Since 1975, they've been headquartered in Sausalito, CA in the Marin Headlands within the Golden Gate National Parks, and have rescued and treated more than 20,000 marine mammals.
These Secrets Are Meant to Be Shared!
Now that you know about our Sea Ranch harbor seals and The Marine Mammal Center, we hope you'll spread the word to your friends as well.
Naturally, we encourage you to share this post on your social media outlets and encourage others to learn more about our marvelous marine mammals and consider becoming a volunteer.
Have you ever experienced harbor seals or other marine mammals up close? Tell us about your experiences in the comments below.
Interested in knowing about other experiences and areas to explore in Sea Ranch?
Then be sure to click here!
About the Author
Donna Martinez is owner of Sea Ranch Abalone Bay Vacation Rental (SeaRanchAbaloneBay.com). To book at Sea Ranch Abalone Bay contact her at Donna@searanchabalonebay.com or click Book Now. Become a member of the Sea Ranch Abalone Bay's Inner Circle and be first to get special offers and events by clicking here.