Tonight, Sunday, September 27 through 28, 2015, the moon will reach its peak fullness in the midst of a total eclipse, something that hasn't happened in 33 years.
A Moon of Many Names
The lunar eclipse will also feature the "biggest" full moon (in apparent size) of 2015. This full moon is also known as a "Supermoon." A Supermoon looks around 12 to 14% bigger than its counterpart, the Micromoon. It will be at its closest point to Earth─ 221,753 miles (356,877 km) away.
This event is called perigee since the moon will be at its closest point to the Earth.
Some will call tonight's moon "harvest moon" or "hunter's moon." These are traditional terms for the full moons occurring during late summer and in the autumn, in the northern hemisphere usually in August, September and October respectively.
Supermoon Lunar Eclipse in the Sea Ranch Skies
This rare total lunar eclipse of a super full moon – called by many as a blood moon– will be visible from most of North America, South America, Europe, West Asia and parts of Africa.
It won't happen again until 2033.
And for our friends and guests at Abalone Bay in The Sea Ranch you're sure to have one of the best viewing spots for this heavenly supermoon lunar eclipse event!
In fact, Sea Ranch is the place to be for any night's stargazing, moon watching or counting stars as they fall during a meteor shower.
Abalone Bay's nighttime views can be spectacular on just about any night!
Darkened Skies Brings Hopes of Capturing the Blood Moon
The Sea Ranch community zealously guards against light pollution. All homes and offices in the community keep all exterior lighting subdued and facing downward to assure light pollution is minimal across its ten miles. We at Sea Ranch are so committed to protecting our night sky viewing that we even include regulations governing lighting in our buildings' construction and remodeling.
By minimizing light pollution for our nighttime skies you can see all the stars in our galaxy and beyond.
Just marvel at these photos of Sea Ranch's hypnotic skies recently taken by Sea Ranch's photographic artist, Paul Kozal, owner of Gualala's Studio 391: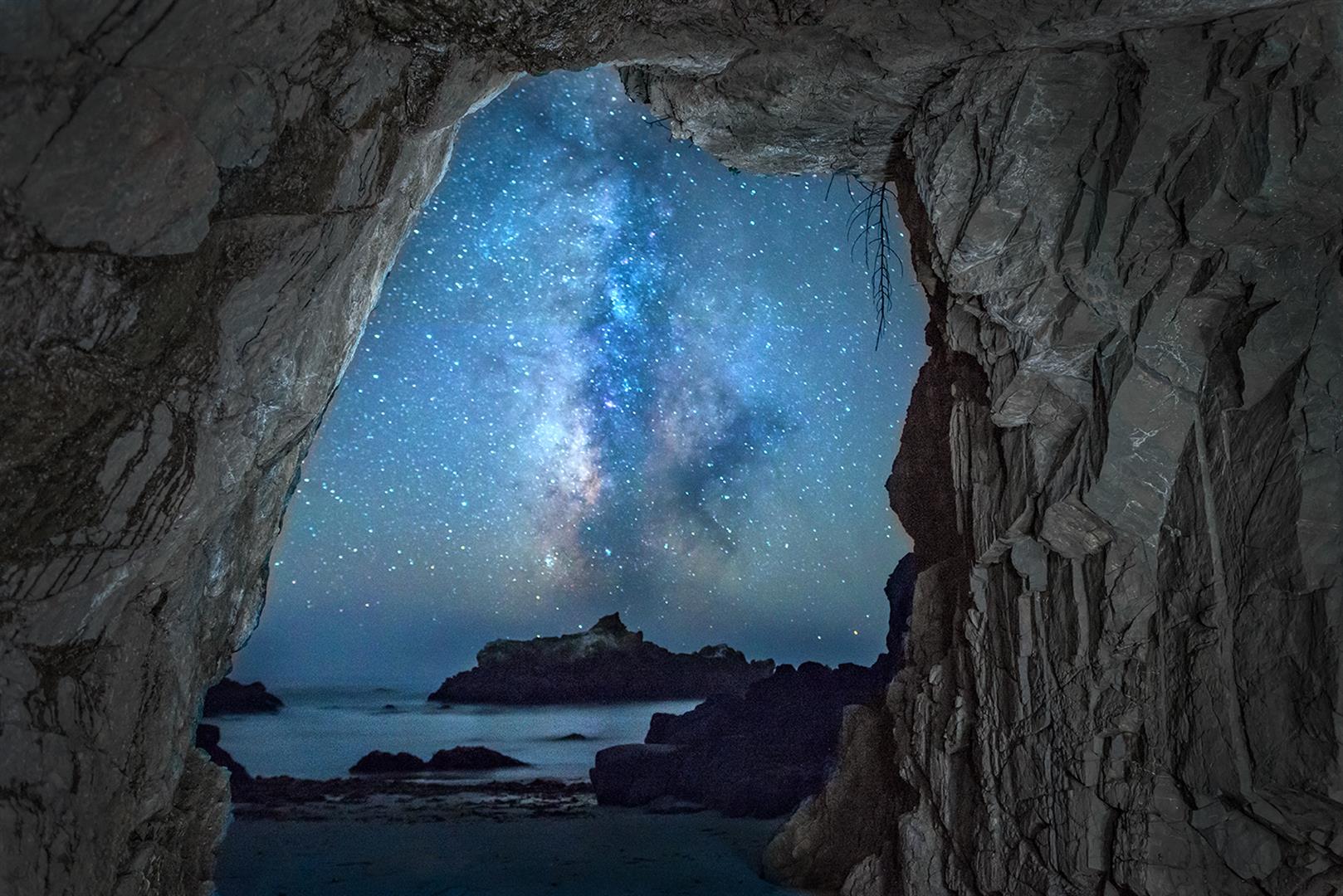 Sea Ranch's dark skies tonight will allow you to view the hypnotizing beauty, during the time that the moon is going into, and later emerging from the Earth's shadow.
That is unless the fog and clouds should roll in.
As I write this our good friend, Paul, with aspirations of adding yet another marvelous moon to his collection writes:
The fog is rolling in here….we will have to wait & see what happens.
We too, here in Santiago, Chile are holding our breath hoping the cloud cover will either blow away or be thin enough to allow for great viewing of the moon as it rises over the Andes.
When and Where to Watch the Supermoon Lunar Eclipse
If you can't get out to watch or the weather is not great where ever you are tonight, you can watch the harvest moon lunar eclipse live in a webcast by the Slooh Community Observatory.
You can also watch the total lunar eclipse on Space.com, courtesy of Slooh.
Here is the time table for the best viewing of the Supermoon Lunar Eclipse.
What is this Supermoon Lunar Eclipse All About?
This video will tell you more of what to expect of tonight's supermoon lunar eclipse and why.
To learn more about tonights Supermoon Lunar Eclipse, Blood Moon and beliefs held by some, visit these websites:
No matter the heavenly event, the season, or weather conditions our dark and beautiful Sea Ranch Skies will always treat you to a heavenly show.
We'd love to hear about your experiences tonight watching for the Supermoon Lunar Eclipse and Blood moon. Share with us in the comments below.
To experience your night time viewing of Sea Ranch's skies click here to

BOOK YOUR STAY AT ABALONE BAY NOW