The Christmas Bird Count occurs December 14 to January 5 every year. Audubon's 122nd Christmas Bird Count completed its count on January 5, 2022 (see map). Announcements for this year's Bird Count will be made in November. Sea Ranch Christmas Bird Count supports the National Audubon Christmas Bird Count. The Audubon Society invites everyone- old and young, new and experienced birders- to take part!
Check back in November to learn when this year's schedule for the Sea Ranch Christmas Bird Count.
National Audubon's Christmas Bird Count is just around the corner!
Sign up for the latest on Audubon's community science programs and find out how you can help. You will receive their quarterly American Birds newsletter by email. It also lists opportunities to participate in Audubon projects across the Hemisphere that help birds. In addition you receive news and updates from Audubon.
Bird Watching and Counting at The Sea Ranch
Bird watching offers a wonderful reason to get outdoors, walk the trails, and enjoy all the marvelous creatures inhabiting Sea Ranch. In fact, at Sea Ranch more than 200 species of birds live in or frequent the area every year. Of course, whether you join the community for the Christmas Bird Count, or simply wish to observe the many bird species that call Sea Ranch home, we have you covered. Besides binoculars, find bird books and trail maps to make it easy for you to try your hand at bird watching. In our trail map basket find a laminated copy of a 6-page list of birds observed at The Sea Ranch.
Sea Ranch- An Active Bird-watching Community
You will most likely not be alone in your endeavors. A very active bird-watching community at The Sea Ranch
maintains a list of birds that sighted at The Sea Ranch and its vicinity since its inception in 1964
conducts an annual unofficial Christmas Bird Count in January
sponsors a monthly bird walk, usually on the first Monday
participates in local counts and research projects
So feel free to join in when you are a guest staying at Abalone Bay!
The Sea Ranch Joins in with an Unofficial Christmas Bird Count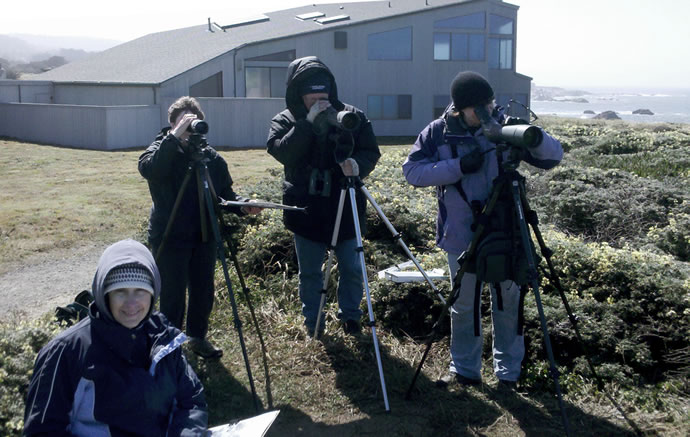 Some localities, such as The Sea Ranch and vicinity, hold an unofficial count. Naturally, bird lovers flock to join in this low-key fun effort by counting the species and individual birds present on a particular day or weekend. As November approaches more information on our Sea Ranch Community's participation will be announced.
Recording the Birds
As with similar Audubon protocols, their recording area covers specific areas. It includes the ocean area visible from The Sea Ranch and north to the adjacent Gualala River and estuary area. In this way they hope that to have a more inclusive count. Coupled with the Madrone Audubon Society, like the Sea Ranchers also focus on the coastal areas. This area includes the California Coastal National Monument: rocks, islands and pinnacles exposed above mean high tide.
However, while the data are recorded, and a count is logged for the community's information, they are not published within the the official results. Ultimately we do it for pleasure and to learn more about our birds on the Ranch.
Volunteers monitor seabirds in the following areas:
Nesting in breeding season,
Survey coastal islands quarterly to establish baseline information in case oil spillage or changing sea levels impact our coastal habitats,
Track during non-breeding season to see how species usage varies through the year,
Search for the incredibly camouflaged nests of Black Oystercatchers,
Track the reproductive success of the Black Oystercatchers,
Locate a rare grass on the bluff edge (and a single known island occurrence)
Record its locations along a ten mile stretch of ocean bluff,
Monitor beach debris,
Help in a long-term intertidal survey,
Offer quarterly nature walks to broaden public interest and background.
Your help is welcome; if you want to volunteer.
What to Expect
Notably, The Sea Ranch Christmas Bird Count is usually done on a Saturday after New Year's Day. In general, leaders of the count provide prospective birders a walk to get in practice for winter birding. They usually meet at 9:30 a.m. at the Del Mar Center parking lot.
Naturally, participants are encouraged to attend the Organizational Meeting scheduled at the Del Mar Center House for group sign-ups and to meet leaders. At that time they determine the various meeting places.
How to View
Sea Ranch welcomes new and experienced birders. Experienced birders lead participants to 10 areas of The Sea Ranch to count. Observers record all birds seen on that da y along the bluff top, meadows and forest. Observers bring their own binoculars and a field guide, and dress for all kinds of weather.
After the Count
Observers gather at Del Mar Center House later that day to count and share their sightings and to share a pot luck lunch and snacks.
History of the Audubon Christmas Bird Count
Longest Running Citizen Science Survey
Citizen Science engages volunteers in the collection of ecological information. In this case, National Audubon's Christmas Bird Count is the longest running Citizen Science Survey in the world. In this case, the holiday bird counts calculate bird populations at a time when migrating and native birds are "wintering." Once again, this year's Christmas Bird Count is by people just like you.
Exchanging Notepads for Guns
Ever since 1900, this long held tradition started on Christmas Day. Ornithologist Frank M. Chapman was an early officer in the then newly formed Audubon Society. Before this, huntsmen would often hold a Christmas "Side Hunt." Sides would be selected and the teams would hunt the field with their guns. The winning team would be whoever brought in the biggest pile of game (both feathered and furred).
A New Holiday Tradition
Ultimately, Chapman initiated a new holiday tradition – a "Christmas Bird Census." Rather than hunt birds during the holidays, now people count them. (See: pdf of the first Audubon Christmas Bird Count of 1900)
Audubon's Christmas Bird Count told by Chan Robbins from Audubon Science on Vimeo.
Join the Audubon's National Christmas Bird Count
All Christmas Bird Counts are conducted between December 14 to January 5, inclusive dates, each season. If you're interested in participating this season, check out the map to find a count near you (see 2022's map). Then the count results are published online by National Audubon and Cornell Lab of Ornithology.
Everyone can participate no matter ability and there is no limit to the number of counts you may attend!
When and Where Will the National Christmas Bird Counts Be Held in California?
In case we have sparked your interest to participate in the Christmas Bird Count near you near you in California visit Nature Alley's Website.
How Does Participation in the Audubon Count Work?
Of course, being a scientific study, they use a specific methodology to the CBC. First, all participants must make arrangements to participate in advance with the circle compiler within an established circle. Anyone can participate, including youth. Typically participants are assigned to teams based on their bird identification skill level and endurance.
Participants are typically assigned to teams based on their bird identification skill level and endurance
For the purpose of the count the following steps are taken:
Each count takes place in an established 15-mile wide diameter circle
The count compiler organizes the group
Count volunteers follow specified routes through a designated 15-mile (24-km) diameter circle
Every bird seen and heard all day is counted to give an indication of the total number of birds in the circle that day
Resources for Bird Watching and Christmas Bird Count in Mendonoma
Visit Nature Alley for more information on all CBC's
Sonoma County Bird Watching Spots
California – National Audubon Society
Madrone Audubon Society: The Sonoma County Chapter of the National Audubon Society
Mendocino Coast Audubon Society
Birders tally up species in 48th annual West Sonoma County Christmas Bird Count: 2014 Press Democrat
Audubon article on Frank Chapman's bird count in 1886. He counted the feathers of 40 species of birds on women's hats in Manhattan – the impetus for the Christmas Bird Count.
National Audubon Society Christmas Bird Count Information
Birdwatching – How to Bird Watch – Ornithology
Book now